Season's greetings! We hope your 2022 is wrapping up nicely. Below, please find the topline results from the Fiscal Year 2022 annual Project Impact and Customer Satisfaction Survey. We thank you for participating. Let us know if you have any questions or would like to discuss the survey results in more detail.
Community Initiatives and Research Evaluation Consulting (REC) teamed up once more in 2022 to conduct our annual satisfaction survey. We were able to examine the actions and experiences of our Projects in a representative way because 90% of our Project Partners participated.
Who Are We?
This year, Projects selected primary and secondary foci for their mission. Education, Social Justice, and "Other" were the top priority categories in our network, but our Projects are still varied in purpose and contribute much to the following sectors:
Philanthropy
Youth Development
Journalism and Media
Animal Welfare
Human Services
Arts and Culture
Networking and Alliances
78% of Community Initiatives Projects have at least one employees and are diverse in both scope and budget.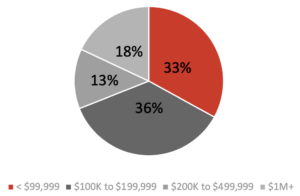 33% of projects have budgets up to $99,999.
36% of projects have budgets between $100,000—$499,999.
13% of projects have budgets of $500,000—$999,999.
18% of projects have budgets of over $1 million.
How Do We Measure Impact?
Measuring impact is critical to any Project's ability to demonstrate their value and ultimately raise funds for future work. Metrics may be self-selected or dictated by the terms of a grant agreement. A total of 79 Projects (100%) identified at least one metric that they tracked. They are listed below in order of emphasis.
Outcomes and Impact
Event Attendance
Populations Served
Project Impact
Services Offered
Financial Stability and Funding
Participant Feedback
Public Awareness
Staff Feedback and Satisfaction
Degree of Engagement
Collaborations and Partnerships
We're proud to report that Community Initiatives Fiscally Sponsored Projects served a total of 1.45 million people in 2022. Also, our projects enjoyed the help of 2,500 volunteers.
What Went Right?
Projects celebrated many successes in the past year, most often cited in the selected key categories below.
Organizational Improvements
60% mentioned organizational improvements as significant successes; this was the number one category of significant successes this year. This theme included efforts such as hiring and training staff, setting strategy, building capacity, and modifying performance indicators.
Community Engagement and Outreach
A plurality of Projects (24%) described stories of engagement, outreach, and provision of services to their target audiences. Such responses highlighted ongoing, expanded, or new programming, serving specific groups in their geographic or professional areas, and sharing knowledge with others in their communities.
Finally, Projects felt Community Initiatives had positively impacted their work. The most-commonly referenced examples mentioned:
Project Infrastructure and Operational Support (60%)
Guidance and Positive Interactions (22%)
Shared Challenges
Many challenges may feel unique to your organization, but your peers are often struggling with similar hurdles – even if they work in a different focus area. This year's most common challenges are listed below.
Fundraising and Financial Viability
The challenges reported by 28% of projects were primarily associated with fundraising, project budgets, and maintaining financial capacity.
Turnover
Staffing issues (17%) included challenges with internal turnover and hiring of new board staff.
Most Valuable Services
Projects specifically listed and ranked the most valuable services they received from Community Initiatives: (*projects can select more than one response.)
36% Accounting and Financial Services
23% Accounts Payable
23% Human Resources Support
18% Legal Services and Contract Review
10% Grant Support
In Your Own Words
"Community Initiatives has been amazing to work with – responding quickly to questions and providing thought partnership as EFN launches itself as an organization with a staff of one."
• Entrepreneurs Funders Network"Staff is responsive, and portal is tremendously helpful to a new nonprofit."
• Emergency Prep Help"All of the Community Initiatives people with whom we work have been extremely helpful, available with little lead time, and extremely gracious and patient"
• Center for Reaching & Teaching the Whole Child"Our team received much support as we launched new projects such as a membership-based coalition and sponsorships through a conference. Community Initiatives' staff was very helpful in creating contracts and helped us ensure we stayed within guidelines"
• Pre-Health Dreamers
"Community Initiatives is incredibly helpful and supportive."
• Parent Advisory Council"Community Initiatives is making us a more polished and professional organization."
• Gameheads"Community Initiatives has allowed South Kern Sol to focus on the work and address some of the most critical needs our most vulnerable communities have had, such as partnering with the food bank to provide fresh food access, PPE, COVID-19 vaccines to our communities."
• South Kern Sol"Community Initiatives goes the extra mile to offer best-in-class service to its fiscally sponsored projects. This commitment to continuous improvement and some core organizational values that we share in common with Community Initiatives have allowed us to extend our reach and impact beyond what would have been possible without fiscal sponsorship."
• Latino Outdoors
Meeting the Need in Fiscal Year 2022
We are pleased to announce that in each service area measured, Projects reported satisfaction levels statistically on par with Community Initiatives' Fiscal Year 2021 satisfaction rating. On average, Projects gave a rating of 3.42 out of 4, which was slightly higher than in Fiscal Year 2021. Similarly, about 94% of Projects said they would be at least somewhat likely to recommend Community Initiatives to others.
89% of Projects responded that they were satisfied or somewhat satisfied with Community Initiatives in the Fiscal Year 2022. Project Infrastructure and Operational Support was the top reason Community Initiatives made a positive difference in our projects' work. Projects also gave positive staff interactions a nod as one of the top reasons Community Initiatives made a positive difference. Yet, we appreciated your candid responses to the survey and noted that some Projects who discussed dissatisfaction with Community Initiatives did write about issues with staff, which we plan to address.
We are focused on how we can improve service delivery in 2023. Based on the data received, we will continue to prioritize and improve in these critical areas:
Improved communications
Celebrate successes internally and externally
Bolster funding opportunities and support
Follow up with projects about their needs and concerns
Continue to provide high-quality HR support and financial services for projects
Continue to evaluate and streamline the survey
Each of our Projects relies on fiscal sponsorship to make their work possible. But that decision has an impact beyond the administration of your organization's efforts alone. By joining the Community Initiatives network, you are also making the work of other incredible groups possible. We thank you for your work and the successes we have experienced together in 2022.