North American Primate Sanctuary Alliance
North American Primate Sanctuary Alliance is promoting a podcast featuring Patti Ragan, founder, and president of the Center for Great Apes in southcentral Florida. Patti gives an overview of orangutans and chimps as ape species and tells stories of some of the center's inhabitants, including Bubbles, a chimpanzee formerly owned by Michael Jackson.
Read more or listen, here.
---
Breakthrough Sacramento
Breakthrough Sacramento is hosting its fundraiser, Big Day of Giving, on Thursday, May 4. On the event-specific website, BigDayOfGiving.org, you can read about the summer needs they are seeking to fill through supporter donations.
Read more, here, or donate, here.
---
MENTOR California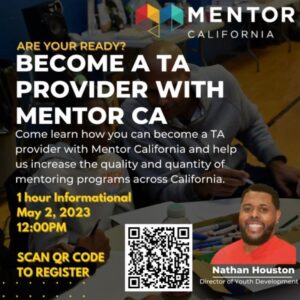 Are you a dynamic, engaging and fun facilitator? Learn how you can become a TA provider with MENTOR California by attending their one hour informational event. Director of Youth Development Nathan Houston will lead a team of dynamic TA Providers across the state. MENTOR California is an affiliate of MENTOR: The National Mentoring Resource Center, which serves as a comprehensive and reliable resource for mentoring programs, offering free training and technical assistance to any mentoring program, mentoring tools, resources, reviews of mentoring research and best practices.
The event will be held May 2, 2023 from 12:00pm – 1:00pm PDT.
Learn more and register here.
---
Castro Country Club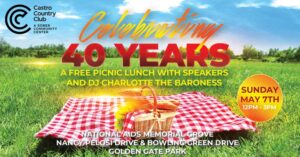 Castro Country Club invites you to join them as they celebrate their 40th anniversary! This event is intended for all who wish to celebrate this milestone and help promote joy. There will be a catered picnic style lunch and beverages provided. The celebration will be held in the National AIDS Memorial Grove in San Francisco's Golden Gate Park. The event will feature speakers sharing the organization's 40 years of service to the community and DJ Charlotte the Baroness who will bring the music for some afternoon dancing.
The event will be held Sunday, May 7th from 12:00pm – 3:00pm PDT.
Learn more about the event here.
---
FOLLOW COMMUNITY INITIATIVES ON SOCIAL MEDIA!
You can find us at the following:
---
Let us know what's going on with your project and we'll do our best to get it into the next Project News and share on social media.
Email Stephanie at communications@communityinitiatives.org.
If you would like to learn more about our projects, please visit our projects page.