Gameheads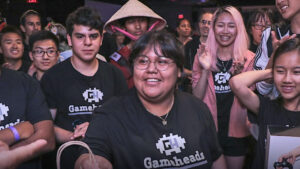 Join Gameheads' students and staff for an exciting block party filled with food, live music, gifts and of course, games! Their 9th Annual Student Showcase the capstone event for Gameheads' Summer Accelerator Program. The program provides their students the opportunity to receive guidance by industry-professional mentors, work in teams to produce their own totally unique, culturally relevant, and super fun games, and the showcase is an important opportunity for students to present their games and for family, friends, and community members celebrate their genius and perseverance. The event will feature live musical performances, food trucks, and a chance to play original, student-produced games.
The 9th Annual Student Showcase will be held August 26, 2023 in Oakland, CA.
Register for the event here.
---
Emergency Prep Help
Emergency Prep Help (EPH) is holding their first public event, Preparing Seniors for Natural Disasters: A Preparedness Social. EPH invites the public to attend and to invite their friends – with particular focus for those who are interested in emergency preparedness and care about seniors in the community. Attendees will learn about EPH, hear from First Responders and other pros who will provide tips for staying safe in natural disasters, and be able to participate in a meet and greet with emergency experts and community partners. There will be free emergency go-bags, resources for seniors, refreshments, and party favors! RSVP by September 1, 2023.
The event will be held September 12, 2023, at the Petaluma Woman's Club in Petaluma, CA 94952.
Email info@emergencyprephelp.org or call 707-241-3280 to RSVP.
---
Institute for High Quality Care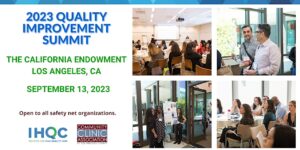 Now in its sixth year, The Institute for High Quality Care (IHQC), and the Community Clinic Association (CCALAC) are excited to announce the 2023 Quality Improvement (QI) Summit and their return to an in-person conference. The Summit focuses on QI's vital role in reengaging and optimizing care delivery in the safety net, offering timely and practical discussions to support staff as they focus their efforts on population health and care/case management, while continuously applying QI strategies to optimize their care delivery.
The 2023 QI Summit will be held September 13, 2023 in Los Angeles, CA.
Register for the event here.
---
Paul R. Williams Scholarship & Education Fund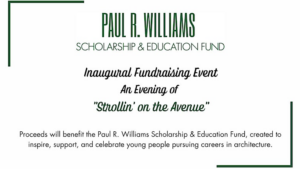 The Paul R. Williams Collection has launched the Paul R. Williams Scholarship & Education Fund to inspire, support, and celebrate young people pursuing careers in architecture. This inaugural fundraising gala, "An Evening of Strollin' on the Avenue" will be hosted in partnership with the landmark Beverly Hills Hotel, for which Mr. Williams completed a major renovation beginning in the late 1940s, including the iconic signage and design elements of enduring appeal.
The fundraising gala will be held October 11, 2023 at the Beverly Hills Hotel, in Beverly Hills, CA.
Get tickets here.
---
Follow Community Initiatives on Social Media!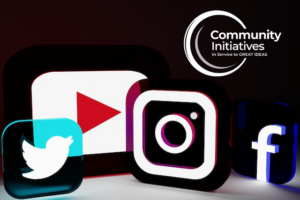 You can find us at the following:
---
Let us know what's going on with your project and we'll do our best to get it into the next Project News and share on social media.
Email Stephanie at communications@communityinitiatives.org.
If you would like to learn more about our projects, please visit our projects page.