The Healing WELL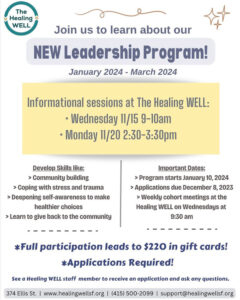 The Healing WELL is launching their new Leadership Program to help participants develop important skills for working within the Tenderloin community that they serve. Skills include: community building, coping with stress and trauma, deepening self-awareness to make healthier choices, and learning how to give back to the community. The program will run from January 2024 – March 2024. Participants who complete the program will receive $220 in gift cards. Those interested are encouraged to see a Healing WELL staff member to learn more about this program and receive an application.
The next informational session will be held at The Healing WELL on Monday, November 20, 2023. Learn more here.
---
Tsuru for Solidarity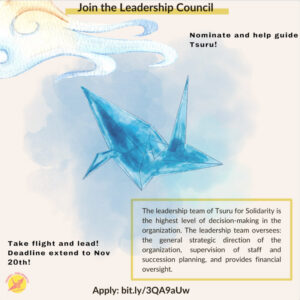 Tsuru for Solidarity is revamping their leadership team for 2024. The leadership team (new name pending!) holds the highest level of decision making in the organization. The leadership team oversees: the general strategic direction of the organization, supervision of staff and succession planning, and provides financial oversight.
Tsuru for Solidarity is a nonviolent, direct action project of Japanese American social justice advocates working to end detention sites and support front-line immigrant and refugee communities that are being targeted by racist, inhumane immigration policies. If you have or want to gain experience in nonprofit leadership, this is a great opportunity to support an important mission. Fill out the linked form or email Lisa at ldoi@tsuruforsolidarity.org to learn more.
Deadline to apply has been extended to November 20, 2023. Learn more here.
---
Regeneración Pajaro Valley Climate Action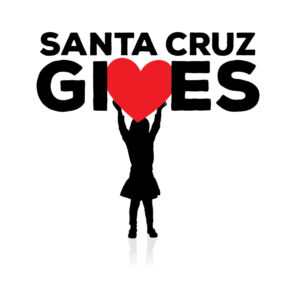 Regeneración Pajaro Valley Climate Action is looking to 2024 to build an inclusive network that empowers all residents to reduce fossil fuel emissions and make their region more resilient in the face of climate change. As Regeneración builds a ready and responsive Pajaro Valley, their work will create jobs, improve health outcomes, increase community well-being, and address economic- and race-based disparities. Learn about Regeneracíon's kick off of "The Big Idea 2024: Build a climate-ready and climate-responsive Pajaro Valley" here.
Watch the Santa Cruz Gives kick-off video on Facebook here.
---
It's Giving Season!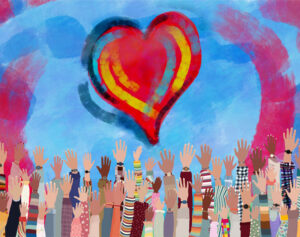 Giving Season is upon us! Make sure you take look at our Fiscally Sponsored Projects' fundraising campaigns. Your support helps them in their work to serve their communities. The crowdfunding page is easy to search by category and name.
See the newest campaigns here.
Find trending campaigns here.
Search campaigns here: give.communityin.org
---
Follow Community Initiatives on Social Media!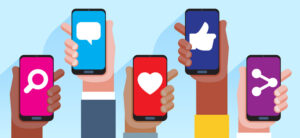 You can find us at the following:
---
Let us know what's going on with your project and we'll do our best to get it into the next Project News and share on social media.
Email Stephanie at communications@communityinitiatives.org.
If you would like to learn more about our projects, please visit our projects page.