Attendance Works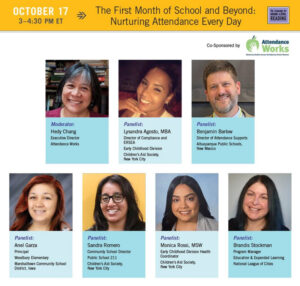 Attendance Works is partnering with Campaign for Grade-Level Reading for The First Month of School and Beyond: Nurturing Attendance Every Day​​​​​​, a Learning Tuesdays session about chronic absenteeism. Executive Director Hedy Chang will moderate this event and engage experts in finding solutions to help families and schools overcome attendance barriers to ensure early school success.
The virtual event will be held Thursday, October 17, 2023. Register here.
---
Bay Area Community Health Advisory Council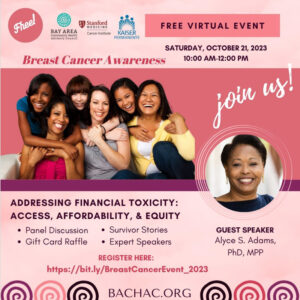 Bay Area Community Health Advisory Council (BACHAC) announces their annual Breast Cancer Awareness Event – Be Informed, Be Empowered! Keynote speaker Dr. Alyce S. Adams, Stanford Medicine Innovation Professor, will delve into the pressing issue of financial toxicity in healthcare for BIPOC breast cancer patients. Attendees will gain valuable insights, hear uplifting survivor stories, and access essential resources. The event will be held virtually, making it accessible to all, and registration is free. Visit the BACHAC website for more details and to help spread the word.
The virtual event will be held Saturday, October 21, 2023. Register here. 
---
MENTOR California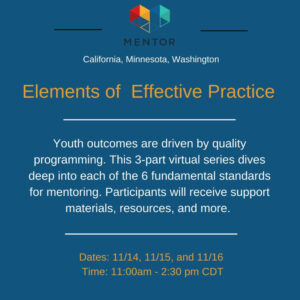 Next month, MENTOR California will collaborate with their partner affiliates MENTOR Minnesota and MENTOR Washington to offer their Elements of Effective Practice training. This three-part virtual series dives into the six fundamental standards for mentoring. Register to participate and receive support materials, resources, and more.
The online event will be held Tuesday through Thursday, November 14 – 16, 2023. Register here. 
---
Project Homeless Connect San Francisco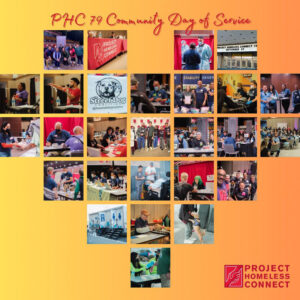 Last month, Project Homeless Connect San Francisco (PHC) celebrated the organization's 79th Community Day of Service by holding an event at the Bill Graham Civic Auditorium to support the San Francisco community. Over 50 service providers and 250 volunteers came together for this event that provided vital supportive services to more than 800 San Franciscans in need. The collaboration ensured that essential services were delivered to those who required them the most. Services provided included medical, dental, vision, housing, veterans' support, family assistance, employment support, mental health services, and harm reduction, DMV, SF City and County Benefits, such as CalFresh, Medi-Cal, CalWORKS, CAAP/GA, WDD, and JobsNOW.
Congratulations to PHC for their continued service to the San Francisco community!  
---
Follow Community Initiatives on Social Media!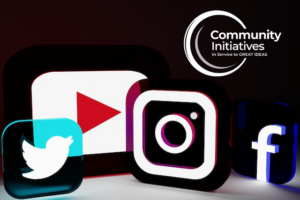 You can find us at the following:
---
Let us know what's going on with your project and we'll do our best to get it into the next Project News and share on social media.
Email Stephanie at communications@communityinitiatives.org.
If you would like to learn more about our projects, please visit our projects page.