EL/LA Para TransLatinas
EL/LA Para TransLatinas is holding a Costume Contest, their first event at OMG Club after more than 2 years. Come dressed to be spooky and have a good time! There will be prizes for 1st, 2nd, and 3rd place for people costumes as well as a prize for Best Dressed Pet.
Additionally, if you would like to be part of EL/LA's evening shows, send them a private message through their Facebook page.
The party starts Friday 28th October at 9:30 PM (PT).
---
STRONGHOLD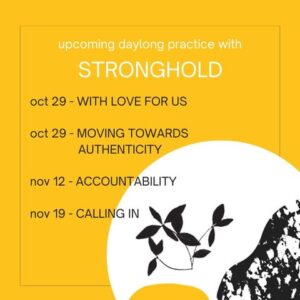 This Fall, STRONGHOLD is offering four stand-alone daylong trainings. Trainings delve into the intersection of restorative justice and racial justice and emphasize building cultures of dignity and belonging through embodied, collective practice. As a part of their commitment to safety and access during the ongoing COVID-19 pandemic, STRONGHOLD's fall 2022 trainings will be held virtually.
View their fall public training schedule here.
---
Immigrants Rising
Wellness Support Groups start next week! Join Immigrants Rising's support groups to feel grounded, find community and connect with one another. These 6-week Wellness Support Groups are led by trained mental health providers or registered clinicians and designed to help undocumented people feel less alone and more understood.
To learn more, visit their Support Groups page where you can view the offerings and register for a group to attend.
---
Bay Area Community Health Advisory Council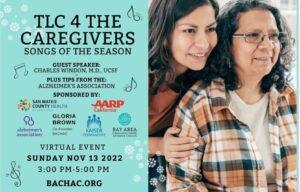 Don't miss "TLC 4 The Caregivers" brought to you by Bay Area Community Health Advisory Council (BACHAC). Ring in the holiday season with this unique and very joyous event!
Attendees will hear from special guest Dr. Charles Windon, Assistant Professor of Clinical Neurology at UCSF, as he talks about burnout and the importance of rest. Additionally, the Alzheimer's Association will share tools and tips to cope with the everyday stressors of caregiving. Plus, enjoy special performances from local musical groups!
Sunday, Nov. 13th, from 3:00 – 5:00 PM PT
Register here.
---
Follow Community Initiatives on Social Media!
You can find us at the following
---
Let us know what's going on with your project and we'll do our best to get it into the next Project News and share on social media.
Email Stephanie at communications@communityinitiatives.org.
If you would like to learn more about our projects, please visit our projects page.