Community Initiatives Celebrates Dan Sudran, Beloved Founder of Mission Science Workshop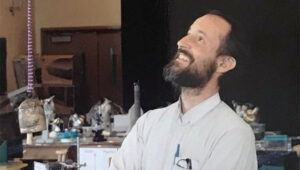 Please join Community Initiatives in celebrating the life of Dan Sudran, founder and former Director of Mission Science Workshop, who sadly passed away from cancer on Monday, June 13. Dan is fondly remembered by us and all those who were fortunate to know him.
Dan had a special gift for inspiring curiosity in all he reached, and firmly believed kids were better off with their hands on scientific projects. Dan's enthusiasm for science was contagious and he dedicated several decades of his life to inspiring both kids and adults to embrace science. Through his fascination and extraordinary depth of knowledge, he provided a space to foster creativity and develop interest in all types of projects, with a particular goal of making science education and exploration accessible to low income and disenfranchised youth.
In 1992, Dan founded Mission Science Workshop, which joined Community Initiatives as a fiscally sponsored project in 2006. Dan's passion for teaching science expanded beyond Mission Science workshop. He shared his knowledge with others in organizations around the world. Mission Science Workshop was so well received that Dan helped establish seven other Community Science Workshops (CSWs), part of the Global Alliance of Community Science Workshops and more than thirty project over his lifetime. One of the more recent CSWs is Salinas Community Science Workshop, also fiscally sponsored by Community Initiatives.
From the time Dan founded Mission Science Workshop, he inspired others with self-directed exploration of biology, anatomy, chemistry, geology, paleontology, and electronics.
Dan's legacy lives on. Children and adults will continue to learn and be inspired by science because of the contributions he made throughout his life.
Community Initiatives donated to Mission Science Workshop in honor of and Dan and his work. If you would also like to make a contribution in honor of Dan, please donate to Mission Science Workshop, here.