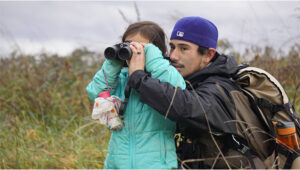 Latino Outdoors is a network of leaders committed to engaging Latinos in the outdoors, connecting familias and youth with nature, and welcome local role models in share their personal stories on social media. Since their first California outing in three years ago, Latino Outdoors has seen explosive growth to regional community-based teams across the U.S.
We spoke with Founder and Executive Director José González about his passion for expanding the narrative on who enjoys the outdoors. We ended up learning about their powerhouse social media community, a White House movie screening, the particular importance of this unique safe space during tense political times.
What's ONE thing you wish other people knew about your project and its cause?
Our focus is on the Latino identity from an equity perspective, but we include everyone in our outdoor activities if they are interested. All are welcome!
Tell us about the most exciting day or week your project has experienced in the last year.
Every outing is exciting because there is usually an opportunity to introduce a family or a kid to open space for the first time, and they are with others who are equally excited.
Last year the White House invited us to screen our film during National Hispanic Heritage month! This was a tremendous opportunity to elevate our voice and showcase our work and our people; viewers could see what our volunteers are doing on screen.
READ about the visit, WATCH the White House discussion, and see PHOTOS of the trip.
Describe how small, gradual action steps of your project have yielded big results.
The birth of Latino Outdoors represented gradual steps that yielded big results! When people saw our name, many said 'yes! I've been looking for you' or 'this resonates with me.'
Getting on Instagram was a powerful visual representation. The result was that many of our volunteers and leaders came through Instagram because they saw themselves reflected in the images we shared!
Another example is the gradual transformation where participants in our programs have such an impactful experience, that they become leaders. This empowerment process is proof of concept for us!
What are some of your social media success stories?
A mom commented on Instagram that the outdoors aren't for her because of snakes and bees, etc. Later, after going on an outing, she posted a picture with a comment, to paraphrase: "Because my kid loves nature, I'm getting to appreciate it too!" Thanks to the experience we facilitated, her perception changed.
We see significant positive feedback on Facebook when we are involved in campaigns about national monuments, for example, or how to change the narrative of what inclusivity means in the outdoor movement. Members of our online community express that they feel validated and empowered. It's wonderful to have created a safe online forum where those conversations happen.
What do you hope your project will look like in 5 years?
I want Latino Outdoors to be a platform that amplifies what people are doing locally. In 5 years, I want us to be the go-to resource for other communities and organizations who see the value in a more diverse outdoor movement!
I started as an individual on social media connecting with others–including one key person who asked what they could do. When I asked "What would you like to do?" the ball got rolling and the momentum grew. I transitioned to an organizational leadership role– coordinating people, leveraging funding, and optimizing fiscal sponsorship. With more organizational backbone and a more comprehensive strategy, we will be well positioned to achieve our goals.
How does Latino Outdoors partner with outdoor companies?
Partners like REI and National Outdoor Leadership School (NOLS) understand that they need to be more inclusive in how they connect with a diverse consumer base, or how they train the next generation of outdoor professionals. We act as a cultural intermediary, making genuine connections between our community and partner organizations.
For example, if NOLS has scholarships, we want them to be accessible to our community, so we work with NOLS to help them improve diversity by enhancing opportunities for our people. And with REI, we help their brand be more diverse and their well known brand helps us to gain recognition. They play a small sponsorship role as well.
Describe your biggest fundraising challenge. What are your tactics for overcoming this challenge?
When you are a small and new organization, it is challenging to compete for funding with organizations that have been building capacity for decades. We don't have a long-standing infrastructure and a foundation may question whether we can handle a large grant. On the one hand, they might like us because we support Latinos, but they might not see the value in community work, so they give funds to a larger organization.
This makes me think of a great post on Nonprofit with Balls "Are you or your org guilty of Trickle-Down Community Engagement?"
To overcome this challenge, we are slowly building relationships with community organizations where we can help them in the work that they do and they in turn can help connect us to broader funding sources. We want to focus on our niche and get to the point where grants work for us, and we spend less time working for grants!
How has fiscal sponsorship helped you achieve your goals?
CI is the car that gets us where we want to go. Most of us dreamers with passionate ideas get excited and push forward and then we realize that to get to our destination, we need insurance, we need to know the traffic rules, we need the right kind of gas– that's what fiscal sponsorship does. CI has expertise and capacity that come with years of experience that we don't have yet. And operational matters are not where we want to invest our time anyway; we want to keep growing and activating our ideas!
Is there anything we can share about your activities this year?
We are doing our strategic planning this month and I look forward to better aligning our communication and social media efforts to reflect what we are doing.
Otherwise, we have some really great outings planned in 2017! Many of our regional teams have found their footing after a year of growing and learning.
The outings have even more importance now that our community is under duress and stress with this current political climate. Donating to Latino Outdoors is an opportunity to support community resilience combined with environmental rights, at a time when both are needed more than ever!