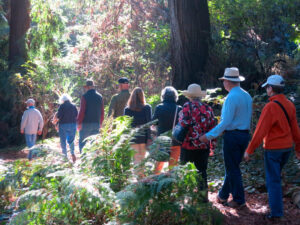 Memory Care Café is a Community Initiatives project that organizes informal meetings and social outings for people living in the Bay area with 'forgetfulness' (early-stage Alzheimer's/dementia) and their care partners. We spoke with Program Director Patricia Ris and Development Director Debora Tingley about the necessity of social support services, fantastic partnerships, experimenting with marketing, and more.
What's ONE thing you wish other people knew about your project and its cause?
Debora: There is fear in the dementia caregiving journey and frequently people become isolated and wait for a crisis before asking for help. Providing a social service may seem like an extra when compared to medical interventions, but it is crucial for people to interact with the world– this is true for both the person who may have a diagnosis and the caregiver. Beyond the community aspect, we provide connections to local services, such as daycare programs when a caregiver needs a break. We're very well connected to the next step in the continuum of care.
Tell us about a nonprofit or business leader who inspires you.
Patricia: We admire the work of an agency in San Francisco called Tender Rose. They specialize in providing assistance and intervention for people who live with dementia at home at an advanced stage. They have developed tools and alliances that help de-escalate potential crises. We operate at the beginning of the journey, where people first discover they have challenges. Tender Rose does terrific work operating at the other end of the spectrum.
What partnerships have been key to your project's success?
Patricia: The Fine Arts Museums of San Francisco, including The de Young and The Legion of Honor, provide free tickets and special tours for our people. The de Young has an Artful Discoveries program geared for people with dementia. This allows our people to participate in their programs and attendees of their programs to learn about the Memory Care Café. We also partner with the Crossroads Café, a training school of the Delancey Street Foundation, for our "friendship luncheon" events. We are a nonprofit supporting another nonprofit!
We organized a "friendship luncheon" at McNears Beach Park in San Rafael last year where around 20 Memory Care Café participants mingled with others from another memory care community called Windchime of Marin. Activities included walking, admiring nature, and eating together.
Debora: Our biggest financial supporter is Dignity Health. One of their chief executives used to come to our café with her husband. He has moved on to a community, but she remains dedicated and supports us every year. We are enormously grateful!
Describe how small, gradual action steps of your project have yielded big results.
Debora: Small steps and experimentation, such as improving our web SEO, have been essential for our marketing success. When I joined Patricia in this work, we tried unsuccessful marketing techniques, like putting fliers around the city and giving talks. We were frustrated, but we kept going. We started asking other elder care services how they market. At an Alzheimer's Association roundtable we learned their best practice of marketing at diagnostic memory centers. That worked for us too! Now there are even centers that prescribe our services to people.
What compelling trends do you see related to your project and cause?
Patricia: Conversations about aging at home are increasing. Many people do not have the financial ability or desire to move into a community. Another trend is that entire families are getting involved with our services and seeking the warmth of community. Also the way that people talk about dementia is shifting and softening; it is becoming less of a negative, as baby boomers grow more aware.
Debora: There are over 200 memory care cafés across the country, so the movement is growing. Each one is different because they are mostly volunteer run and grassroots. The concept is in its infancy, but it's taking off!
What do you hope your project will look like in 5 years?
Patricia: We are hoping for growth and a larger network. We are starting to get close to capacity in some of our meetings, so we are wondering how can we can be creative and offer alternative support for people if we reach capacity in ongoing groups. We are looking also at the possibility of a Memory Care Café in the South Bay.
Describe your biggest fundraising challenge. What are your tactics for overcoming this challenge?
Debora: We are funded by a handful of large and medium private and corporate donors, so we would be vulnerable if anything changed. We are looking for a more sustainable mechanism, like the possibility of partnering with another senior organization in San Francisco. In the meantime, we are happy to provide two free lunches monthly to our groups and to pay for bocce ball courts once a month!
Patricia: We would like to find one or two new board members to bolster our giving through annual gifts. There are also generous donors among our participants. It's proof of success for us to receive support from people who remember when we asked for membership fees and have decided to make donations instead, now that we no longer have fees.
How has fiscal sponsorship helped you achieve your goals?
Debora: The help with accounting and taxes, legal advice, and nonprofit expertise is invaluable. Community Initiatives saves us time and gives us peace of mind to focus on our events.
Patricia: When you're working at a small nonprofit and working from home, like we each do, it can be lonely, so it is great to be a part of the Community Initiatives community– both from a social aspect with events like the holiday party and knowing that we receive so much support from CI!
Is there a major milestone coming up for Memory Care Café?
This April will mark our 4-year anniversary!
Learn more about Memory Care Café