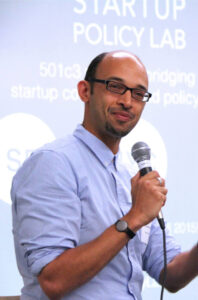 With its origins in a 2013 Meetup group, Startup Policy Lab works at the intersection of technology and government to promote innovative, open, and data-driven policymaking. We spoke with Founder and Executive Director Charles Belle about a big and unique event happening next month, inspiration and partnerships, the benefit and challenge of being nonpartisan, and his even bigger vision for the future!
What's ONE thing you wish other people knew about your project and its cause?
One thing we talk about internally is how transformative technology is, but that we haven't fully grokked that as a society. Technology is shaped by our values and it's important for all of us to have a stake in that conversation. While we may focus on startups and emergent technology, we have a broad community and we try to engage as many people as possible in the transformative power of technology. We see Startup Policy Las as a safe, nonpartisan forum to help encourage conversations that lead to inclusive policies in the quickly shifting technology landscape.
Tell us about the most exciting day or week your project has experienced in the last year.
We're building up to it! Following the momentum of last year's conversation-sparking event– Moving Politics to the Web: How Technology Can Change Politics, we're having our Global Election Technology (GET) Summit next month, from May 17-18. There will be over 20 sessions and we are expecting between 100-400 people.
We are excited, not only are because the GET Summit will be the largest event we've done to date and not just because we are bringing in speakers from around the country, but because it's something new in the space. The engagement and angle is unique in that it will be a broad conversation that engages a wide pool of potential participants, whereas others in the election technology space have been more focused in their subject matter areas.
Tell us about a business leader who inspires you.
Zach Berke with Exygy has created a great model of a balanced and aware mission-driven for-profit company. They ask themselves good questions and understand what it means to work with government.
Marc Andreessen of Andreessen Horowitz has spearheaded an innovative approach to engaging with policy makers.
And for larger companies, there's still a lot to be done, but Mark Benioff at Salesforce is taking an impactful leadership role.
What partnerships have been key to your project's success?
We live, work, and play in the Twitter building, in a "technology innovation hub" called Runway. It is a supportive and engaging environment!
Other enriching partnerships include: Brigade– "the world's first network for voters", Hacker & Founders, The International Association of Privacy Professionals, and the University of Chicago internship program– by the way for the CI network's info, the internships are eligible to be paid by the fellowship for nonprofits!
How do you attract diverse groups to the industry?
We are connected with Black Founders, the Latino Startup Alliance, and Lesbians Who Tech, to name a few groups. We are committed to making connections, showcasing the work of these groups, and sharing information.
To give you a better idea of how we go about this, here is a blog post about a roundtable we hosted with the Small Business Association– Takeaways from a Roundtable on Minority Founders with the SBA.
Describe how small, gradual action steps of your project have yielded big results.
Receiving a fellowship from UC Berkeley's Center for Technology, Society, and Policy, set our work around drones in motion and has gradually led us to play a pivotal role in local decision making. Currently no city agency is allowed to use drones, but the City of San Francisco is starting to talk about how to introduce their use in city operations. We've been involved in those conversations for nearly two years and we introduced the idea of running a beta program with a small number of agencies vs. a big one-size-fits all structure. Our testing concept represented a major rethink/shift in direction and an exciting opportunity to have a real impact with city agencies to craft policies to govern the operation of drones that could potentially be a model for other cities.
This example represents our approach– creating the world that we want to have and not reacting to the one that we are afraid of! We embrace the process of building the legal and policy frameworks to open the door towards innovation by government, private industry, and civil society.
What do you hope your project will look like in 5 years?
Our goal is to keep building this safe forum to talk about technology and policy. We'd love to see a huge conference around technology and policy in San Francisco– a sort of South by Southwest for tech policy!
We can envision the multi-focus areas: transportation, election technology, healthcare, energy. Our ideal is to be the mechanism to create those safe places for big conversations where there are positional differences that aren't partisan. A forum where subject matter experts, elected officials, government officials, private industries, nonprofit, civil society, get together under the umbrella that we provide. Our GET Summit is a first step to building this bigger vision!
Describe your biggest fundraising challenge. What are your tactics for overcoming this challenge?
It's ironic, but our nonpartisanship is a strength in general, but it becomes a challenge for fundraising. Creating a nonpartisan identity puts us in a neutral status, whereas funders want us to kind of "pick a side" so that they know what they're backing. The fact that we don't do advocacy work takes us out of consideration for many foundations grants. To get around it, and our GET Summit is a good example, is to strive for big, high-exposure events that allow us to look to corporate donors in a way that benefits both of our strategic objectives.
How has fiscal sponsorship helped you achieve your goals?
It's really nice, and I say this with love, to know that a professional team is taking care of the entire backend for us. Everyone at CI is supportive and attentive. Our specialist is incredibly responsive, flexible, and helpful and all I can say is THANK YOU!
I know that if I am uncertain about something, about whether something is possible, I can talk to CI and they will help solve problems. That doesn't mean that everything is possible, but most of the time we find a solution that works. It's a positive, constructive relationship.
We love being a part of the CI community and are happy to offer our help to anyone in the network!
Connect with Startup Policy Lab in social media!
Twitter https://twitter.com/StartupPolicy
Facebook https://www.facebook.com/startuppolicylab/
Medium https://medium.com/@StartupPolicy